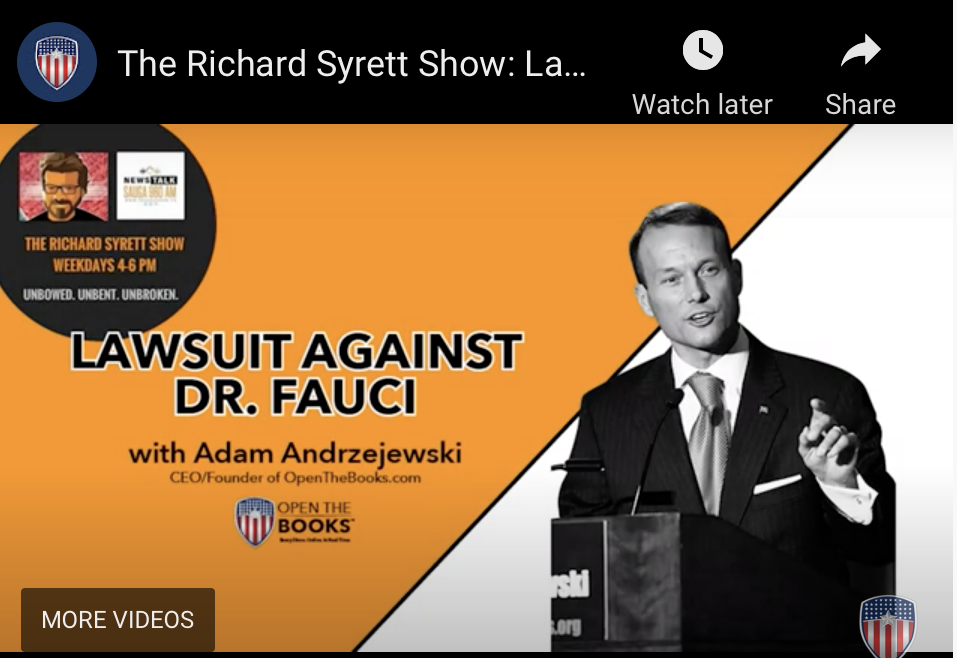 This podcast interview of Adam Andrzejewski of openthebooks.com by Richard Syrett is eye opening to me as a democrat and an American. I was already concerned about all the hype and criticism of Dr Fauci and his controlling decisions, which have always seemed to have more merit than not, but openthebooks.com has nailed it for me.
Adam's group filed literally hundreds of Freedom Of Information lawsuits to get the real story, and it's a definite must-hear (link is below)
For example, did you know that Dr Fauci is the highest paid government employee of all, even though he is at a lower-level Federal agency working in disease control. Find out why in this fascinating podcast.
Adam's website OpenThe Books.com is always a great resource for innovative data insights bringing transparency to waste and financial corruption in our government. His data maps are particularly wonderful, turning mountains of data into very digestible and attractive graphics. Politicians and "public servants" might not like what he uncovers and reveals, but how do you argue with transparency and facts?
Our subscribers will recognize this as one of our core beliefs here at Unpoliticallycorrect.com – "Say what you mean calmly and respectfully with supportable facts."