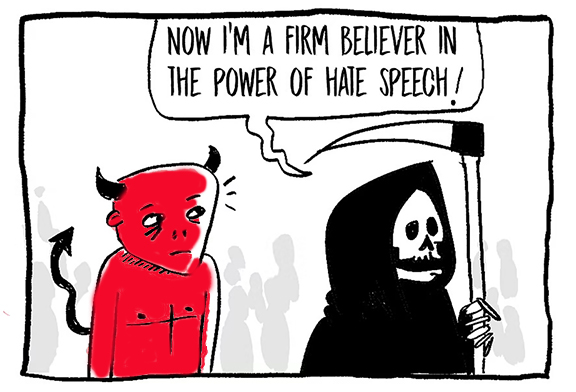 The Cato Institute 2017 Free Speech & Tolerance Survey continues to offer up insight as we browse the data. Given the fact that nearly everyone has a position on Hate Speech these days we thought it was interesting to see that the differences between people based on their political identify don't seem to vary a lot, whereas the views of people divided by ethnicity show a very interesting diversion.
We notice that while both Whites and African-Americans appear to believe with equal conviction that government should not be involved in preventing hate speech, Latinos appear to be much more in favor of active government intervention.
Of course these are only single datapoints and can't be used to generalize too much, but we do find it interesting to think about why this specific issue of the government's proper role in addressing hate speech doesn't appear to be affected as much by people's politics as by their racial identity.
We wonder why Whites & African-Americans, who have very different lived experiences with hate speech, appear to share the same negative view of government intervention, where Latinos appear to be much more in favor?
We don't have the answer and would love to hear your thoughts and comments.
Which of the following two statements comes closer to your own view?
A. People should be allowed to express unpopular opinions in public, even those that are deeply offensive to other people.
| | | |
| --- | --- | --- |
| DEMOCRATS | REPUBLICANS | INDEPENDENTS |
| 59% | 47% | 60% |
| | | |
| --- | --- | --- |
| WHITE | AFRICAN-AMERICAN | LATINO |
| 72% | 66% | 42% |
B. Government should prevent people from engaging in hate speech against certain groups in public.
| | | |
| --- | --- | --- |
| DEMOCRATS | REPUBLICANS | INDEPENDENTS |
| 40% | 52% | 38% |
| | | |
| --- | --- | --- |
| WHITE | AFRICAN-AMERICAN | LATINO |
| 27% | 33% | 56% |